Here at CCDCS, we understand that emergencies or unexpected expenses can cause you to fall behind with the bills. We also realize that even one late payment can make your interest rates be raised to an outrageous amount. Our program can help you regain control of the bills by having them brought back to a "current" status without having to make double or triple payments to catch up. In certain situations, we can even have accounts removed from collection agencies.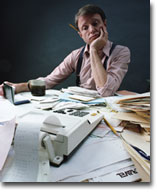 When you join our debt management program, we'll be able to help you re-establish your credit. As long as you make your payments on time and in full, you'll be establishing a steady payment history. Accounts may say you are enrolled in a consumer credit counseling program on your credit report, but that you are paying as agreed now. We'll also provide you with a written letter of reference to help you get credit in the future.
By taking advantage of our Debt Management Program, we can help you get control of your finances by gaining the following benefits from your creditors:
Reduced Interest Rates: Many major creditors will reduce or even eliminate the interest you're currently being charged. Contact us and we can give you the exact amount the creditors will lower their interest to.
Eliminate Late or Over-Limit Charges: In most cases, we'll be able to have those annoying late fees and over-limit charges waived. Some creditors require three minimum payments before they stop these fees.
Smaller Payment Amounts: Your monthly payment can be reduced significantly, based on what the lowest minimum payment the creditor is willing to accept. Contact us and we will let you know these guidelines for each specific creditor.
Re-aging of Past-due Accounts: By taking advantage of our Debt Management program, your accounts can be brought back to a current status, giving you a fresh start. This also makes it unnecessary to make up past due payments, where the creditors are asking for a minimum payment of hundreds of dollars.
Re-establish Your Credit: As you pay the bills through us, you'll be establishing a steady payment history. Keep in mind that creditors are grateful you have decided to enroll in a consumer credit counseling program because they realize you could file for bankruptcy. Instead, you are repaying your debt.
How Do You Get Started?
Click on the "download forms" link to begin the enrollment process. Before we send out proposals to your creditors, we need you to consult with our trained credit counselor to determine your budget information, figure out your monthly minimum payment, and make sure you understand exactly how your program with us here works. We need the signed, completed forms as well as a current copy of each statement from the creditors that you would like included on the program. You can fax the forms and statements back to us at 1.888.315.3242.